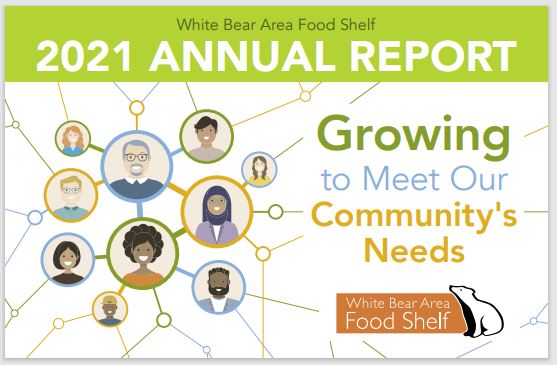 The 2021 White Bear Area Food Shelf Annual Report
is now available to view!
The report includes: the impact of the food shelf over the past six years, a summary of our programs, our 2021 financials, and a special thank you to all of our financial contributors.

Wondering if we will be open during inclement weather?
Please check here, our Facebook page or call 651-407-5310 for the latest information.
We are looking forward to welcoming you to our Curbside Pick-Up Food Distributions! Here's the process we will follow:
Neighbors will take an order form from the mailboxes at the parking lot entrance (one for each household) and park in one of the designated spots once the market is open.
When the food order form is complete, please turn on your hazard lights, and a volunteer will pick up your form.
Your order will be fulfilled indoors and brought out to your car. We are asking neighbors to load their own groceries in order to maintain social distancing for everyone, to comply with preventive measures against Covid-19. 
Please push your cart to the cart section before leaving.
If assistance is needed anytime during your visit, please just turn on your hazard lights. Please visit Our Services for more information.