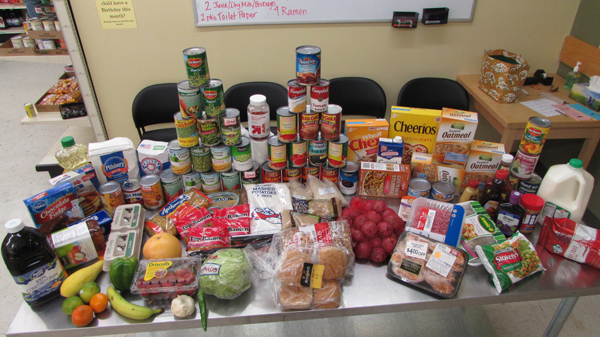 The White Bear Area Emergency Food Shelf experiencing an emergency or financial difficulty that limit their ability to purchase food for themselves and their family.
Monthly Market
Monthly Market is available to neighbors who reside in or are enrolled in the White Bear Area school district. Neighbors may schedule an appointment to shop for items like fresh produce, dairy, meat, bread, and non-perishable pantry goods.
Regular shopping hours are:
Monday, Wednesday, Friday:  10:00 a.m. – 12:30 p.m.
Tuesday, Thursday:  4:30 p.m. – 7:00 p.m.
Bonus Saturday
Bonus Saturday is available to all by appointment only. Neighbors are eligible to come every Saturday to receive additional items such as fresh fruits and vegetables, fresh salads, yogurt parfaits, and fruit juices.
Bonus Saturday:  8:45 a.m. – 12:15 p.m.