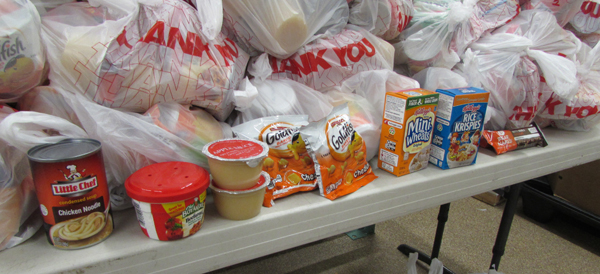 Respect and Confidentiality Policy
It is the intention of the food shelf staff and volunteers to provide services to all of our clients in an atmosphere of respect and cooperation.  In order to do this, the White Bear Area Food Shelf will refuse to serve anyone who displays the following behavior either on the phone or during pick up of food:
•    Aggressive behavior- physical or verbal
•    Argumentative
•    Use of profanity
•    Loud angry voice
•    Refusing to leave when asked
•    Unwilling to abide by the White Bear Area Food Shelf policies including Identification requirements.
In addition, we will be unable to provide services to clients who are under the influence of alcohol or illegal drugs.  If intoxication by alcohol or illegal drugs is evident, services will be immediately stopped and will not continue until the client is able to comply with The White Bear Area Food Shelf's policies.  In the event that the above behaviors are displayed during services, the first incident will result in a verbal warning, the second incident will result in a written warning, and the third incident will result in refusal of services and referral to another agency.
Grievance Procedures for Clients
Clients with complaints about services should be directed to the appropriate staff member at the time of the complaint.  Client issues will first be dealt with by the office manager and, if necessary, by the executive director.  The executive director may be reached at 651-407-5372.
In accordance with Federal law and U.S. Department of Agriculture policy, the White Bear Area Emergency Food Shelf is prohibited from discriminating on the basis of race, color, national origin, sex, age, or disability. To file a complaint of discrimination, write USDA, Director, Office of Civil Rights, Room 326W, Whitten Bldg., 1400 Independence Avenue SW, Washington, DC 20250-9410 or call 202-720-5964.