We are excited to offer the following Volunteer Opportunities!
Curbside Pick-Up 

KidPack Assembly Events

Donation Sorting
We are committed to providing a safe volunteer experience for everyone and have implemented several changes during COVID-19 outlined in Volunteering During COVID. Please review this document before signing up for a volunteer shift.
New Volunteers – Are you new to volunteering at the Food Shelf? If you are, please fill out and bring a Volunteer Application During Covid-19 to your first volunteer shift.
Youth Volunteers – We are currently welcoming volunteers 16 years of age and older at all volunteer events, and youth ages 12-15 volunteering with an adult at Donation Sorting.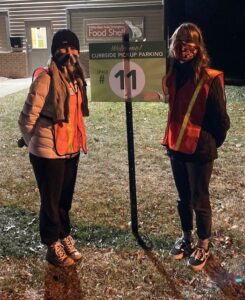 Volunteer at our Curbside Pick-Up Food Distributions!
SIGN UP HERE! for Curbside Pick-Up Stocker, Greeter and Market volunteer opportunities. These positions are shift-based and you can sign up for multiple shifts to create your own schedule! All of the volunteer roles and schedule are outlined in the Curbside Volunteering document. 
If you are interested in the Scheduler, Food Rescue or Warehouse positions, please contact Deb, our volunteer coordinator at deb@whitebearfoodshelf.org. These roles are weekly and require a 6-month time commitment. 
Help Assemble KidPacks!
The KidPack Program is a free, optional, supplemental weekend food program for Kindergarten to Fifth Grade Students in the White Bear Area Schools. Enrolled Students will receive a bag of single-serve food items (including 2 breakfast, 4 lunches, and a handful of snack items) on the last day of the school week to bring home for the weekend. We are excited to invite volunteers to join us on Thursdays at Community of Grace Lutheran Church (4000 Linden St. WBL) to pack KidPacks for our weekly distributions. You can view the available volunteers slots and SIGN UP HERE!  
Help Us Sort Donations!
The Food Shelf receives food donations from food drives, local grocery stores, and supporters in our community. Help us sort and check these items for freshness on Mondays. See the available volunteer slots and SIGN UP HERE!
Due to the close proximity of volunteers in this shift, please sign up in pairs with a family member or someone in your "covid bubble." 
For more information on volunteer opportunities, please contact Deb, our volunteer coordinator at (651) 433-7286 or email deb@whitebearfoodshelf.org with any questions.
Court Ordered Community Service – Please be aware that all court-ordered community service volunteers must be approved before beginning volunteer hours. Please email deb@whitebearfoodshelf for prior approval. We are unable to serve as a host for those looking to complete community service hours for a:
Violent crime
Theft-related crime
Crime of a sexual nature
Crime whereby the conviction relates to the volunteer position
Felony-level offense