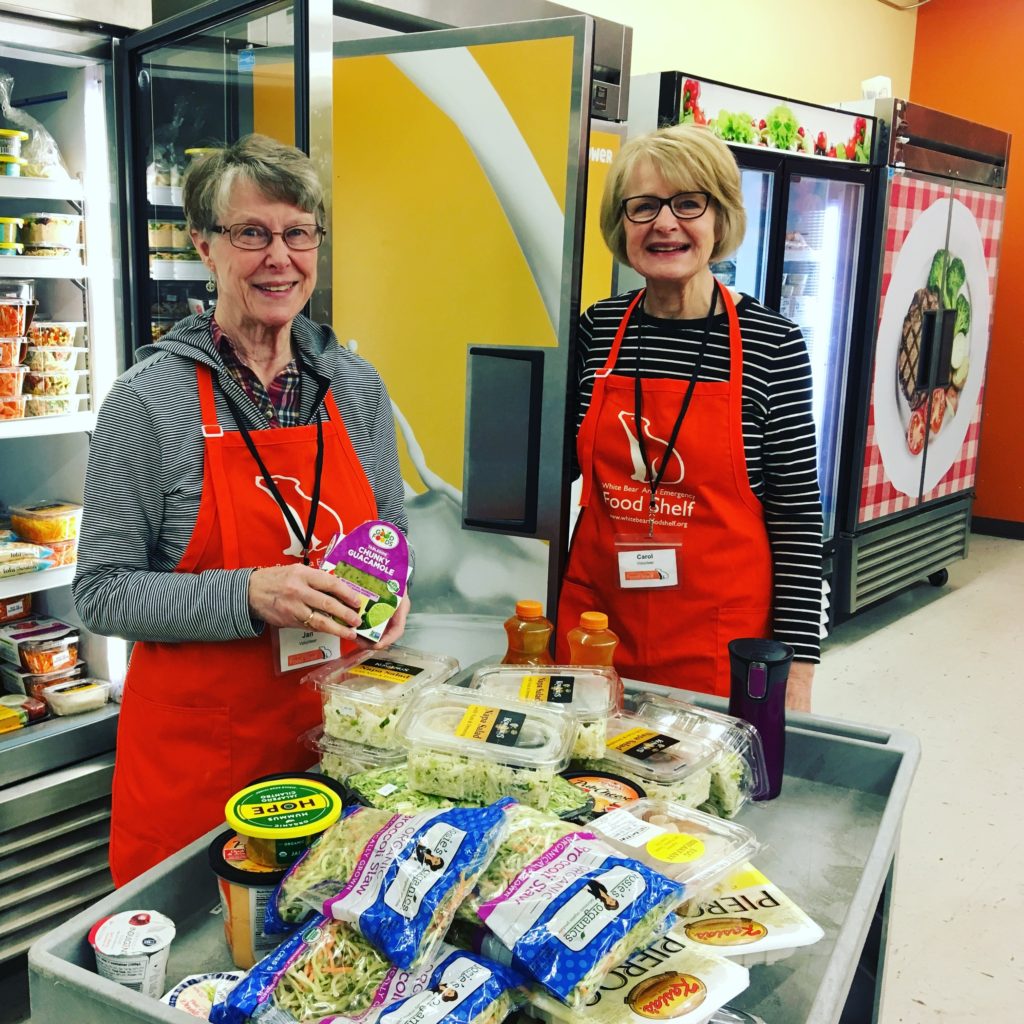 Volunteers Needed at Free Farmers Markets!
We are excited to announce that we will be having Free Farmers Markets the 1st, 2nd, 3rd and 4th Thursdays in July, August and September. The best part is we are looking for volunteers to help us out and we'd love to have you join us!
These opportunities will be shift-based and you will sign up for individual shifts on Sign-Up Genius through this link: https://www.signupgenius.com/go/30E0C4FA8AC2AA4FA7-free
We are committed to providing a safe volunteer experience for everyone and have implemented several changes during COVID-19. Before signing up, please review the Free Farmers Markets Volunteer Agreement to see the requirements for volunteering and all the details. You will need to bring the signed agreement to your first shift.
Most other volunteer activities have been suspended. Stay tuned for future updates to the program!
---
The White Bear Area Emergency Food Shelf relies on volunteers to provide food and support to our neighbors in need. We have a variety of group and individual volunteer opportunities available. All volunteers must complete an application and participate in an orientation before volunteering.
*Please be aware that according to food shelf policy we are unable to serve as a host for those looking to complete community service hours for violence or theft charges.
Individual Volunteer Opportunities include:
Greeter – Greet neighbors as they arrive to shop and schedule appointments over the phone.
Driver – Pick up Food Rescue product from various local grocery stores.
Stocker – Help sort items and restock shelves.
Market – Be available to answer questions and provide support to neighbors during their shopping appointment.
Resource– Connect with neighbors one-on-one about what we do and additional community resources.
Garden – Get your hands dirty growing beautiful produce.
Special Events – Help as needed for various food drives and other special events.
For individual opportunities, we generally ask that you make a six-month commitment to work at least two times per month.
Neighbors are welcome to volunteer with us! Please note that food shelf policy states that neighbors must volunteer and shop on separate days.
Group Volunteer Opportunities Include:
KID Pack Assembly Events
Community Roots Garden
Mobile Markets
Host a Food Drive
For more information about these or other volunteer opportunities please contact Deb, our volunteer coordinator at (651) 433-7286 or email deb@whitebearfoodshelf.org with any questions.
New Volunteer Orientation

(suspended until further notice)
The White Bear Area Emergency Food Shelf is a place where our neighbors find a relaxed, friendly, and judgement free environment. That feeling of welcome is only possible because of our amazing volunteers. Our volunteer teams understand that everyone needs help from time to time and that their time here is making a real difference in the lives of our neighbors.
We want volunteers to feel valued and to have a wonderful experience at the food shelf so we're careful to make sure all volunteers are fully trained and comfortable in their role. All new food shelf volunteers are asked to attend one of our regularly scheduled orientation sessions. This session is our opportunity to make sure that you find a volunteer role that is fulfilling and will fit your experience and skills.
The orientation has two parts:
Food Shelf tour and information – During this time we'll provide you with information you'll need to have a great volunteer experience with us. The information session will last approximately 30 minutes and will include a tour of our facility, an overview of food shelf programs, time for questions, as well as information about specific volunteer positions.
Part two is for new volunteers who are ready to commit to a specific role and schedule. New volunteers will complete all necessary paperwork as part of the orientation.
New volunteer orientation sessions are held twice each month on the:
2nd Tuesday at 6:30 pm

4th Wednesday at 9:00 am
To register for a New Volunteer Orientation, call Deb at 651-433-7286 or email deb@whitebearfoodshelf.org.
Following orientation volunteers should feel that they have a thorough understanding of their volunteer role on the food shelf team and will be prepared to have an enjoyable experience helping neighbors in need.
Application Form