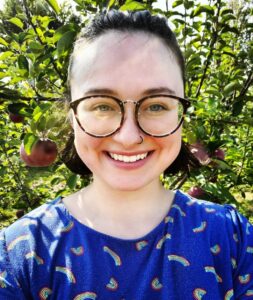 Marie Van Buskirk is excited to join the White Bear Area Food Shelf as Market Coordinator. She previously worked at St. Andrew's Community Resource Center in Mahtomedi with families experiencing homelessness and families at risk of homelessness. She is excited to support the work of helping her neighbors access food and support in times of need.
Originally from Texas, Marie moved to Minnesota to attend St. Olaf College where she studied business management and social work. After graduation, she continued her passion for helping others access supports and services as a case manager for families experiencing homelessness and client with disabilities.  She loves working with children and has also taught as a kindergarten teacher and camp manager in Japan.
Marie loves cooking new recipes, singing, and reading adventure/fantasy novels. She lives in Minneapolis with her partner and two cats, Hank and Doctor. Still a Texan at heart, she struggles with the cold, but loves being outside and hammocking in the park.