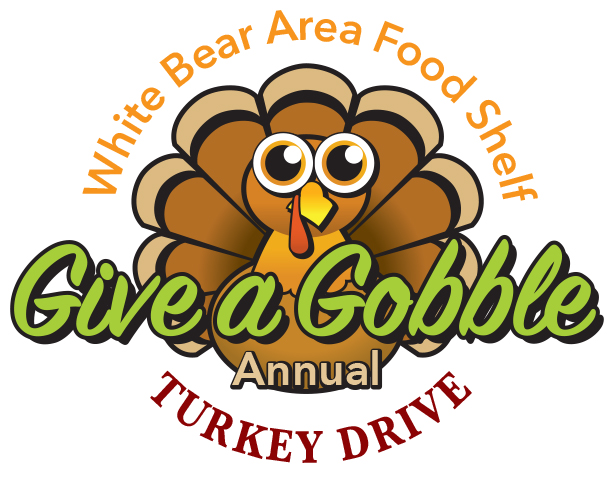 ***Give a Gobble Appointments are now FULL. Please call the Food Shelf at 651-407-5310 if you need additional Thanksgiving Day food resources.***
The Thanksgiving tradition, Give A Gobble, continues in 2020! This year's food distribution will be held on two days – Monday, November 23 and Tuesday, November 24 from 10:00 a.m. to 6:30 p.m. on each day.  
SIGN UP HERE for an appointment for this event from November 9 -24! Your turkey and all the fixings for a healthy Thanksgiving will be ready when you arrive including a frozen turkey along with the traditional sides, fresh produce and pie! 
Please note: Family and friends may pick up for others but each family needs to sign up individually for an appointment through the link above. For further questions, please call the Food Shelf at 651-407-5310. 
We are also looking for Give a Gobble Sponsors and Volunteers! Please consider supporting this annual event make this time of year special. Please contact Perry Petersen, perry@whitebearfoodshelf.org, if you are able to join us as a partner this year!
If you are able to volunteer either day, SIGN UP HERE!
---
¡La tradición de Acción de Gracias, "Give A Gobble", continuara en 2020!  Este ano la distribución de alimentos ocurriere en dos días– lunes, 23 de noviembre y martes 24 de noviembre de 10:00 a.m. a 6:30 p.m.  
¡Regístrase aquí para este evento!  Su pavo y todos los acompañamientos para una cena de Acción de Gracias saludable estarán disponibles cuando llegue.
Artículos incluidos: ¡Un pavo congelado junto con los acompañamientos tradicionales, verduras frescas y pastel!
TENGA EN CUENTA: La familia y los amigos pueden recoger para otros, pero cada familia necesita inscribirse individualmente. Para más preguntas por favor llámenos al estante de alimentos al 651-407-5310.
¡También estamos buscando a patrocinadores para este evento! Por favor considere apoyar este evento anual para hacer que esta época del año sea especial. Por favor, póngase en contacto con Perry Petersen, perry@whitebearfoodshelf.org, si usted es capaz de unirse a nosotros como socio este año!
Si puede ser voluntario cualquier día, ¡REGÍSTRESE AQUÍ!