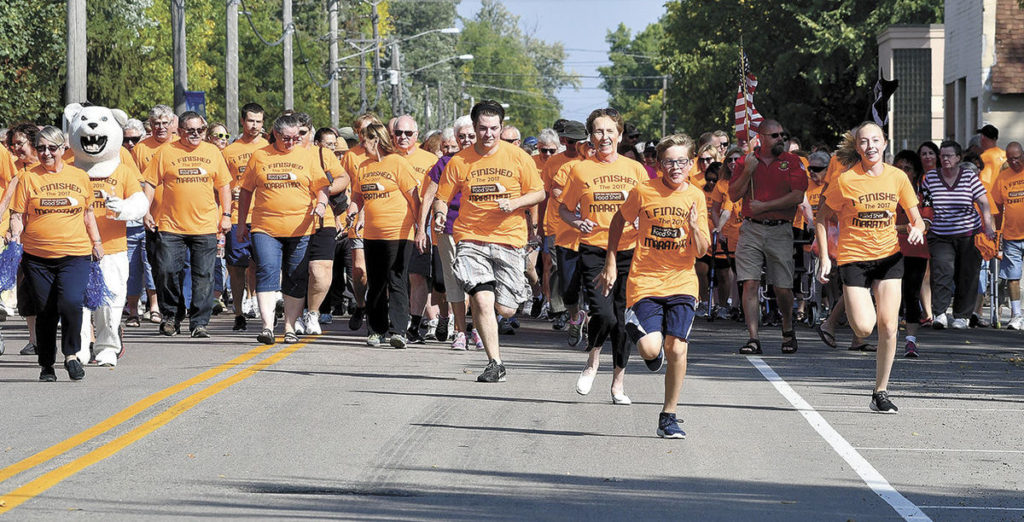 ONE BLOCK run organized by Gloria Carpenter to benefit the White Bear Area Emergency Food Shelf on Saturday, September 28th at 11 am on Bale Eagle Ave (between 3rd and 2nd street) in White Bear Lake.
It's time to start training for the 8th annual "White Bear Lake Shortest Marathon". Your participation will give you the privilege to impress your friends, to take it off your bucket list, and to help a neighbor in need. In the past four years, we have raised over $36,000 for the food shelf, and we want to give them more!
Your $35 tax deductible donation includes two White Castles from Mueller Mortuary for a carbo load before the race, a bottle of water half way down the block, so no one gets dehydrated, AND in celebration of completing the Food Shelf Marathon,Caribou Coffee and donut holes or at the finish line.
The first 300 participants to register will be guaranteed a "I FINISHED THE FOOD SHELF MARATHON" t-shirt.
Join us the evening before (9/27) at the White Bear Area Emergency Food Shelf between 4-6 pm for a fun T-Shirt Pick Up Party. Festivities will include an opportunity to pick up your t-shirt in advance, catered goodies, a TOUR of the Food Shelf, and much, much more!
The food shelf is located at 1884 Whitaker Street in White Bear Lake, MN.
Thank you to our T-Shirt Sponsors: Abbott Paint, Donatelli's, White Bear Country Inn, Rudy's Red Eye Grill, Mueller Mortuary, and the WBL-VFW Post 1782 and Auxiliary.
Banner Photo courtesy of Paul Dols of the White Bear Press