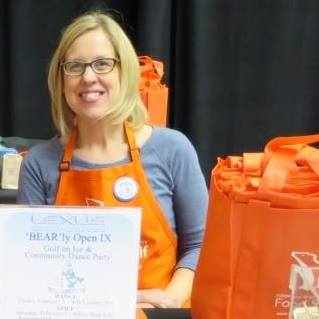 Dear Friends of the Food Shelf,
After much contemplation, I have decided to transition out of my role as Executive Director for the White Bear Area Emergency Food Shelf. My last day will be Saturday, May 11th, and like all my days at the food shelf, it will be filled with volunteers, food, and excitement as we Stamp Out Hunger in partnership with the White Bear Lake Post Office. Planning for this decision has been extremely difficult and I will greatly miss our "small but mighty food shelf team," our neighbors, volunteers, donors, and this very generous community.
Next year I will have a senior and a freshman at Blaine High School, along with a 7th grader at DaVinci Academy in Ham Lake. As my children embark upon this pivotal time in their lives, I want to be more present to them and the distance between the food shelf and my home in Blaine has made that challenging. I've recently accepted a new position as Vice President of Advancement for Hope 4 Youth, an organization dedicated to serving youth experiencing homelessness in Anoka County. This opportunity allows me to grow professionally while serving my local community.
During my time at the White Bear Area Emergency Food Shelf, which began in July of 2015, we have made tremendous strides working to eliminate barriers that have traditionally limited access to healthy food for families living on a low or fixed income. Working in partnership with this generous community, the food shelf has doubled our resources, our volunteers, and the number of families we serve each month. We have established new and innovative programs that allow us to provide healthy groceries and meaningful support to more local families struggling to make ends meet.
Please know that as I make the final preparations to leave this important role, the Food Shelf's Board of Directors are steadily leading the transition and have engaged professional support to make the most of this opportunity. The staff will continue to work collaboratively to ensure our stakeholders (neighbors, volunteers, donors, and community partners) have everything you need during the transition and beyond. Each staff member is extremely knowledgeable, dedicated, and committed to the mission of providing food and support to our neighbors in need in partnership with the communities of the White Bear Area.
Lastly, I want to extend my deepest gratitude to the community partners who have supported the White Bear Area Emergency Food Shelf over the years. Without you, the Food Shelf could not do all that we do to end food insecurity in the White Bear Area. Thank you for the opportunity to work alongside you in service to this wonderful community.
With gratitude,
Andréa Kish-Bailey