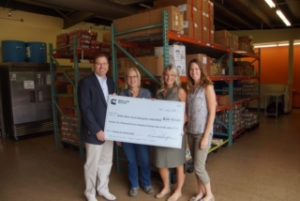 Cummins NPower President, Lance Arnett presented a check for $26,725.04 to the White Bear Area Emergency Food Shelf on behalf of the Cummins Foundation to increase access to healthy food for all neighbors in the White Bear Area.
What started as a simple call for help by food shelf coordinator John Enoch, for a few volunteers from Cummins to move shelves and reorganize the warehouse grew into a Six Sigma project for the company.  The Cummins Foundation grant supported the work of Katie Roessler, a Six Sigma Black Belt, to update the food shelf warehouse to one t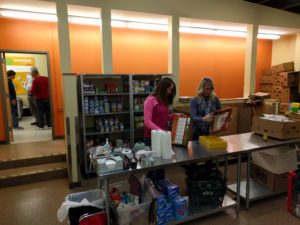 hat maximizes safety and efficiency.  The warehouse is now complete with a first in first out process, a roomy food sorting station for volunteers, rolling stairs, fans in the market area and more!
Additionally, the grant provided new freezers and coolers to triple the food shelf's capacity to accept and distribute food rescue product from local grocery stores.  This includes additional meat, dairy and produce items allowing healthier choices for our neighbors at the food shelf.
But it doesn't stop there! Cummins proudly sponsored the Communit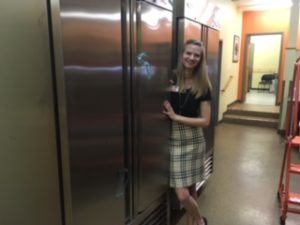 y Roots Garden which has harvested over 400 pounds of fresh veggies for families utilizing the food shelf. The garden sponsorship includes a shed which will allow volunteers to tend to the garden on evenings and weekends when the food shelf is closed.
The White Bear Area Emergency Food Shelf neighbors, volunteers, staff and members of the board are grateful for the support of Cummins and honored to work alongside the community to provide food and support to neighbors in need for nearly 40 years.
To learn more about how you can support the work of the White Bear Are Emergency Food Shelf, visit www.whitebearfoodshelf.org.