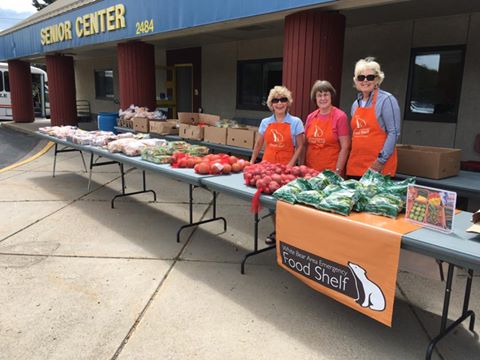 On Monday morning this week volunteers packet the Lion Mobile with boxes full of Brussel sprouts, grapefruit, potatoes and other fresh produce to be delivered to the first of three free, fresh produce markets at Normandy Park and the White Bear Area Senior Program.  The arrival of the Lion Mobile on Monday was the result of a long standing conversation (3 years in the making) to increase access to healthy food for seniors in our area.  Not only that, last week we met with a number of White Bear Area Schools faculty and staff to formalize our collaborative efforts to provide hungry students and families with food.  We have also established a Community Emergency Assistance Fund in conjunction with White Bear Area churches, and the Vadnais and Hugo Lions, and the Otto Bremer Foundation.  The list could go on…
Our mission statement 'Providing food and support to our neighbors in need, in partnership with the communities of White Bear Area'  is fulfilled on a daily basis in cooperation with local churches, civic groups, businesses and individuals.  In the early stages of forging these partnerships we are frequently invited to share with individuals and groups the many and varied stories of neighbors.  More often than not, one courageous soul is willing to ask what others may not want to voice, 'How do you know if neighbors really need your help?'  Albeit a potentially polarizing question, it is legitimate to ask given that humans, regardless of socio-economic standing, are prone to take advantage of people and resources.  Bernie Madoff is an extreme example and while he was nowhere near the federal poverty guidelines threshold (at least not until his Ponzi scheme was discovered) he exemplifies the potential we all have, regardless of income or class, to 'abuse the system.'  Deception is a human trait, not a characteristic of our low income and poor neighbors.  If I am being honest, I can think of a number of times that I have or been tempted to stretch the limit.  I bet you could identify a few instances too.
When we are asked, 'How do you know neighbors really need your help?'  we are tasked with assuaging anxiety and dispelling assumptions.  This is no small feat since there will always be people that take advantage of our resources but for every one person there are many more that truly need the help.  Wendy*, for example, was working fulltime until April when her hours we cut to 32 a week.  She makes $12 an hour and with minimal child support she did not qualify for SNAP (financial assistance for food).  This means that she is making around $2,200 ($1,700/wages +  $500/child support) a month to provide for herself and her daughter.  This does not go far when you consider rent, utilities, car insurance, gas, and child care just to name a few.  "When I was working 40 hours I was able to get by," she told me "but when they cut my hours I started to get behind." She, being a week away from July rent, does not have enough to cover the full payment.    Wendy is exactly why we are here and why our community partnerships matter.
The average number of times a neighbor shops at the food shelf is four to five times a year.  That is it!  For those that do come on a consistent and monthly basis, those we may be prone to make assumptions about, are our senior and disabled neighbors.  We have a wonderful, lively community of seniors that visit us on a monthly basis.  Some senior neighbors remain in their homes while others live in apartment complexes but all are making the most of living within the thin margins of fixed incomes.  The majority of our seniors subsist on Social Security payments alone receiving approximately $1100 -1400/month.  Keeping in mind that market rate apartment rentals are $1000 our seniors are burdened with additional supplemental medical expenses.  Our disabled neighbors, many of who cannot or are not able to work, receive supplemental income well below $1100/month.   Since many disabled neighbors are unable to work due to chronic health issues, brain trauma or developmental delays we are an essential resource.  SSDI is not easy to qualify for, it is a tedious and lengthy application process not for the faint of heart.
The majority of our neighbors come and go based on unexpected expenses or job loss.  (I've had two calls today about car repairs over $1000.)  The fact of the matter is that even with those few that may take advantage of our services, it is so few that it does not threaten our ability to serve all those who rely on our programs.  It is, the Wendy's in our midst assure us that our efforts are not in vain.